Expanded Closed Cell Silicone Sponge
Service Detail from JAMAK Fabrication USA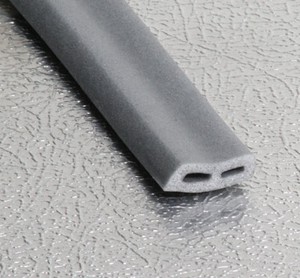 JAMAK manufactures silicone sponge in a variety of profile shapes and densities to best fit your use requirements. Silicone sponge is available in continuous lengths, custom or standard profiles, and as bonded gaskets. Standard colors include black, white, gray and red-oxide. Custom matched colors are also available.
Silicone sponge is commonly used in applications requiring superior sealing properties in harsh environments for industries such as automotive and appliance. Uses include lighting gaskets, door seals and latch seals.
TYPICAL PHYSICAL PROPERTIES OF JAMAK CLOSED CELL SILICONE SPONGE:
Density lbs/cu ft.

Soft 15-18
Medium 22-26
Firm 32-35

Water Absorption %
Service Temperature
Compression Deflection 25% (per ASTM 1056)

Soft 2-5 PSI
Medium 6-9 PSI
Firm 13-17 PSI

Compression Set% (22 Hrs @ 212°F per ASTM 1056)

Soft 15%
Medium 6%
Firm 8%

Ozone
Brittleness Temp (Per ASTM 1056)
Visit our website at www.jamak.com or call 800-39JAMAK Ext. 5217 for more information.
---