100s of Materials. Endless Die-Cut Possibilities.
Service Detail from JBC Technologies, Inc.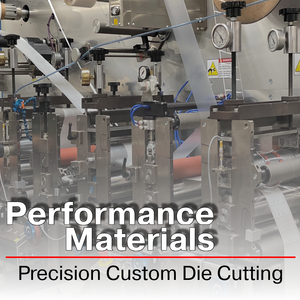 ...for customers in the automotive, consumer electronics, telecommunications, heavy industry, healthcare, and aerospace markets.
We don't just make parts. We make solutions.
• Gasketing
• Sealing
• Heat Shielding
• Thermal Management
• Vibration abatement
• Noise Suppression
We're a custom material converter and precision die-cutter, and we know the importance of using only top performance materials in our custom solutions. We also know that our products are only as good as the materials we use to build them, so our customers can count on us to provide them with the best.
We are members of the 3M Preferred and Avery Dennison ADVantage converter networks, and we partner with only the world's best raw material manufacturers. Our key material suppliers include…
3M • Avery Dennison • DuPont Morgan • Thermal Ceramics • mactac • Berry Global • AIM Fiber Products • tesa • Neograf Solutions • Nitto • Armacell • Adchem
…and many, many more.
Click on the More Info button at the top of this page to learn about the specialty materials we can process and how they can help you build your custom die-cut solutions today.

Play 100s of Materials. Endless Die-Cut Possibilities. Video