Die Cut Gaskets, Seals, and More
Service Detail from JBC Technologies, Inc.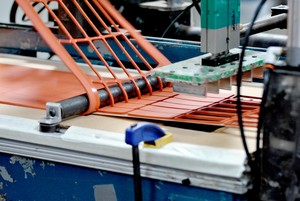 Quality Die-Cut Gaskets, Seals, Tapes, and More
At JBC Technologies, we don't just convert flexible materials into die-cut parts, we help manufacturers solve problems – whether that be buzz, squeak and rattle, noise, vibration, and harshness, sealing out air, moisture, or chemicals, or simply finding a better solution to integrate our part into your process. As our brand promise states, "we make doing business easy" – in any way we can.
Over the last 30+ years we've helped numerous companies:
Thousands of Materials
JBC works with numerous advanced materials – from medical-grade tapes and adhesives to flexible graphite, acrylic foam tapes, EMI/RFI grounding and shielding tapes, low-density open-cell foam, high-density closed cell sponge rubber, synthetic blankets, ceramic paper and blankets, technical paper, cork, felt, fiber, and much more.
Converting Expertise
Laminating – to fabricate multi-layer composites, and add peel-and-stick pressure-sensitive adhesives to foams, felts, non-wovens, and other performance materials.
Slitting – In-house slitting enables JBC to buy full-width rolls from the manufacturer and slit to the desired width for our converting processes
High-Speed, Tight-Tolerance Rotary, and Platen Die-Cutting Presses – for intricate multi-layer parts.
Wide Web Presses – for high-volume, multi-ply, large-part die-cutting.
Ultrasonic welding – for inline component assembly.
Embossing – for improved formability of light gauge aluminum foils
Microperforating – for improved acoustic performance of lightweight stainless steel and aluminum foil.
Automated Assembly
Couple our manufacturing capabilities with our extensive team of knowledgeable and experienced process engineers and our decades-long strategic partnerships with some of the best material manufacturers in the industry, and it's easy to see why JBC Technologies leads the way in custom die-cutting.
Limitless Possibilities…
Let's make something great together. Contact us today.

Play Die Cut Gaskets, Seals, and More Video