Die Cut Gaskets, Seals, and More
Service Detail from JBC Technologies, Inc.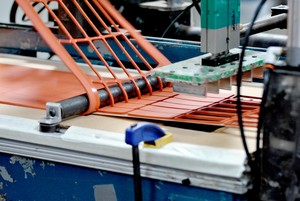 JBC works with numerous advanced materials to provide you with the right die cut parts for your applications – from low density open cell foam to high density closed cell sponge rubber, synthetic blankets, ceramic blankets, technical paper, cork, felt, fiber, and much more.
A key aspect of our solution based process is to help you succeed. This means we recommend materials and die cut constructions that offer the lowest total cost for the you, without promoting any specific material. With our extensive die cutting expertise and inventory of materials in stock, we can uncover innovative material solutions and offer fast turnarounds, all while maintaining competitive pricing. Thanks to our strategic network of world-class suppliers, we offer custom, value-added components made with the following materials.
Acoustical, Electrical, and Thermal Insulation
Fabric
Foam & Sponge Rubber
Foils
Gasket Materials
Graphite Heat Spreading Materials
Pressure Sensitive Tapes & Adhesives
Thermal Acoustical Barrier TABshield
Quality Die Cut Gaskets, Seals, and More
At JBC, we don't just convert flexible materials, we help manufacturers solve problems – whether that be buzz, squeak and rattle, noise, vibration and harshness, sealing out air, moisture or chemicals, or simply finding a better solution to integrate our part into your process. As our brand promise states, "we make doing business easy" – in any way we can.