Lightweight solution to mitigate heat and noise
Featured Product from JBC Technologies, Inc.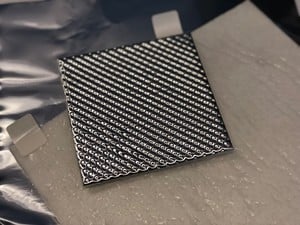 This lightweight composite heat shielding material comprised of foil, fiberglass/polyester insulation core, and peel & stick backing meets Ford spec: WSS-M99P32-E6
It is designed for targeted thermal & acoustical protection for engine shields, tunnel insulators, dash insulators, hood insulators, engine compartments, exhaust shields, tunnel shields, marine heat shields, appliance applications, HVAC, and more. It is ideal for use in applications with space or weight constraints. And for quick fixes when unwanted hot spots are identified late in the product launch cycle.
TABshield thermal patch series is available in several standard-sized sheets and rolls, or it can be custom die-cut to meet your specific project requirements.

Options include:
Peel & stick adhesive backing—for ease of installation
Adhesive pull tabs—for easier liner removal
Embossing—for better formability
Microperforating—for improved acoustical performance