3M Dual Lock Reclosable Fastener
Featured Product from JBC Technologies, Inc.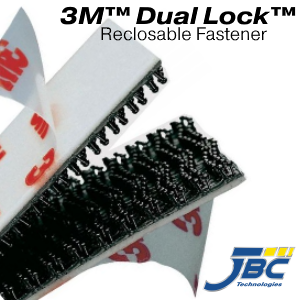 At JBC Technologies, our customers count on us to offer them a wide variety of innovative, high-performance materials for their custom die-cut parts. So, when you need more performance and flexibility than traditional hook-and-loop can muster, 3M™ Dual Lock™ reclosable fastener just might be the thing.
Why 3M Dual Lock over traditional hook-and-loop?
3M™ Dual Lock Reclosable Fasteners have unique interlocking mushroom-shaped heads that slide past each other, and snap closed, for a strong bond that peels apart easily for repeatable open/close fastening.
Are automotive and signage applications good for 3M™ Dual Lock
Can JBC Technologies make custom die-cut parts out of 3M™ Dual Lock reclosable material?
Does 3M™ Dual Lock come with pressure-sensitive adhesive (PSA) backing so I can stick it anywhere I want?
We've got these answers and then some.

We recently interviewed 3M™ Senior Applications Engineer, Pam Vannelli, and Converter Markets Specialist, Scott Piper to get the skinny on what makes 3M's Dual Lock reclosable fasteners so great and where that greatness can be used. Click on More Info at the top of the page to read the entire article.

Custom Converting & Performance Materials
JBC Technologies can create custom-die-cut parts using 3M™ Dual Lock reclosable fastener material. Contact Us to get your project started today.