3M LSE Adhesive Tapes for Automotive Applications
Featured Product from JBC Technologies, Inc.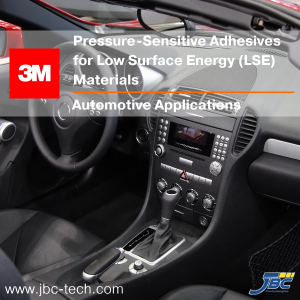 Automotive OEM designers and engineers have been using plastics, composites, and other specialty materials for decades, and with good reason - they're lightweight, often inexpensive, and bring with them a host of relatively recent aesthetically pleasing design options. The challenge? It's no longer just high-performance consumers looking for. They want eye-performance, too.
A hidden downside of these advanced materials, however, is their inherent low surface energy. Low surface energy – LSE to the industry – means that these materials are difficult to bond. To put it even more plainly, adhesives don't like to stick to LSE materials.
3M's specialty LSE adhesives can be used to bond surfaces in many different places within an automobile.
JBC Technologies works with our automotive customers to design and create custom bonding solutions throughout the vehicle –
Steering Wheel Trim
Passenger Communication System
Sunroof
Door Bolsters
Interior, exterior, under-body, and under-hood. We'll use our 30+ years of converting experience to die-cut custom components from 3M LSE tape rolls.
JBC Technologies is the best choice for die-cutting 3M LSE Adhesive Tapes. To learn more about our services or submit a project, reach out today!

Play 3M LSE Adhesive Tapes for Automotive Applications Video