Adhesive Tape for Your Die-Cut Parts in 6 Steps
Featured Product from JBC Technologies, Inc.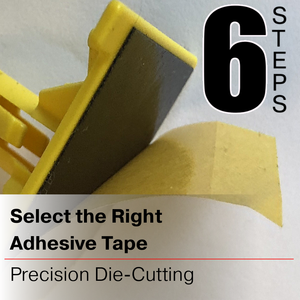 An educated customer is our best customer.
The more you know about the performance materials going into your custom die-cut parts, the better, and we're here to help.
When you choose JBC Technologies to make your adhesive-backed die-cut components, you can be confident that our experienced team has the materials, expertise, and application know-how to get the job done right – the first time.
After we've chosen the proper adhesive tape for your application, we'll laminate it to the main material - foam and silicone rubber, ceramic insulation, metal foils, etc - before using our state-of-the-art precision die cutting equipment to mass-produce your parts to your exact specifications.
So when it comes to helping you select the right adhesive tape for your die-cut parts, you can count on us to help lead the way. We'll look at
Adhesive Lifetime • End-Use Application • Environmental Factors • Substrate Materials
We've written this helpful blog post with 6 of the best ways you can be sure you're selecting the right PSA tape for your application. Click the More Info button above to learn more, or Contact Us to get started on your project today.