Adhesive Tapes: A Q&A with Avery Dennison
Featured Product from JBC Technologies, Inc.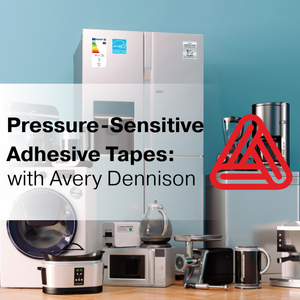 As a member of the Avery Dennison ADvantage Converter Network, JBC Technologies knows a thing or two about adhesive tapes. We've been using them in our custom solutions for decades, and our customers have come to count on us for our tape die cutting and application expertise.
We recommend adhesive tapes for all sorts of applications:
Bonding dissimilar materials
Assembly aides
Surface protection
Lamination of multiple materials
As much as we know about adhesive tapes, though, there are times when we've got questions we don't know the answers to. We also know that our customers have questions, and we want to do our best to help them out.
We recently sat down with one of the tape experts at Avery Dennison Performance Tapes, design and applications engineer Michael Price, to talk about pressure-sensitive adhesive tapes.
Avery Dennison is one of our world-class material suppliers, and if there's anyone on Earth that knows tapes, it's them.
Click on the More Info button up there to be taken to our Converters Corner blog, where you can read the entire blog post. If you're ready to start your custom die cutting project with us, we'd love to hear from you.