Automotive Manufacturing Cost Reductions via VAVE
Service Detail from JBC Technologies, Inc.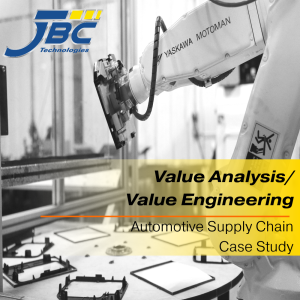 JBC Technology recognizes that our job isn't done the day we ship your precision die-cut components. As an integral member of our customers' supply chains, JBC knows that we're not the end, but another critical step in the continuing manufacturing process. We want to understand our customer's business, to see where and how the parts we make are being used.
It's the JBC Advantage.
The more knowledgeable we are, the more value we can bring. With our engineering-focus and forward-thinking process mentality, we offer our customers executable options. Options that can reduce waste improve manufacturing efficiency, and lower production costs.
What is Value Analysis/Value Engineering?
Value Analysis/Value Engineering – It's about knowing the customer's supply chain.
Can the changes we suggest to the part composition or presentation save time in the final assembly process?
Can we use automation at a JBC facility to supplement or replace manual operations at the customer's assembly line?
We've put together a pair of short and powerful case studies that clearly illustrate how JBC Technologies adds value far beyond the die-cut parts. We've worked closely with our Tier 1 Automotive customers to analyze their processes and uncover new, value-added part solutions. With our dedication to innovation, we actively search for new ways to streamline your manufacturing process and eliminate waste.
Read the Case Studies here or click More Info above to be taken to our VAVE page for more info.

Play Automotive Manufacturing Cost Reductions via VAVE Video