Choose the Right PSA for Your Die-Cut Components
Featured Product from JBC Technologies, Inc.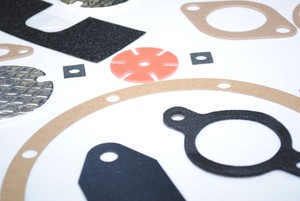 How to Choose the Right PSA for Your Die-Cut Components
JBC Technologies has been working with pressure sensitive adhesives (PSAs) and foam tapes for over three decades, sourcing material from best-in-class suppliers including 3M™, Avery™, CCT, and more. Over the years, we've laminated adhesives to a wide variety of materials (foam, rubber, silicone, insulation, foil, and more) for a broad range of industries and applications – converting bulk materials into press-ready material for efficient die cutting.
Our experience has taught us that the more our clients know about the available materials – and what goes in to choosing them – the better we can help them make the right choice for their application, increasing end-product performance and customer satisfaction.
Here's a high-level overview of the preliminary steps that go into selecting the right adhesive.
1 – Identify the end-use application of the gasket
How will the gasket be used? It is important to consider where and how the final product will be used and communicate this information to your converter. Adhesives can react differently depending on where and how they are applied.