Double-Sided Adhesive Tape & Precision Die Cutting
Featured Product from JBC Technologies, Inc.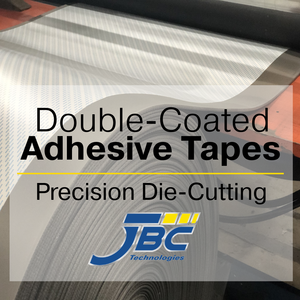 We can help you select the right double-sided tape for your custom die-cut parts.
Because double-sided adhesive tapes have a pressure-sensitive adhesive on both sides, they make a great addition to custom die-cut parts that require
An adhesive backing
Kiss-cut presentation on rolls
Island Placement
Pull tabs for easy liner removal
When you visit our Double-Sided Adhesive Tapes landing page by clicking the More Info button above ?, you'll learn more about what makes this PSA tape so special and why it might be a good fit for your custom die-cut solution.
You'll also find answers to these questions:
♠ What is double-sided adhesive tape?
♦ Are double-sided tapes good for vibration dampening and permanent bonding?
♥ What's the difference between a double-sided tape and an adhesive transfer tape?
JBC Technologies has over 30 years of flexible materials converting experience.
Our state-of-the-art, high-speed, precision die-cutting expertise and world-class industry partnerships are just two advantages of working with a world-class vertically integrated converter like JBC technologies.