Custom Die-Cut Solutions: Reduce Unwanted Noise
Featured Product from JBC Technologies, Inc.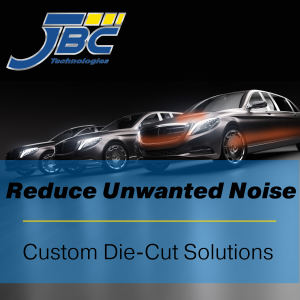 Today's consumers are more demanding than ever. Big ticket items cost more, so why shouldn't we expect more? Higher quality. Longer-lasting. More economical. And of course, quieter.
Industrial designers and OEMs are often left with little choice but to address unwanted sounds and vibrations in their designs.
NVH – Noise/Vibration/Harshness
BSR – Buzz/Squeak/Rattle
Oftentimes, the best solution – the one that requires little in the way of product redesign and doesn't significantly impact final product cost – is a custom die-cut component from JBC technologies.
We've spent decades helping customers in the automotive, appliance, and electronics industries find unique and creative ways to manage unwanted noise. We partner with our customers cradle-to-grave, to ensure that their custom-designed die-cut solutions meet even the strictest requirements.
We'd love to talk with you about your unwanted noise challenges - We want to make your successes our successes. Want to learn more about how we can combine our materials selection expertise and converting know-how to craft a noise mitigation solution for you? Click More Info to get started.