Custom die-cutting, flexible materials converting
Service Detail from JBC Technologies, Inc.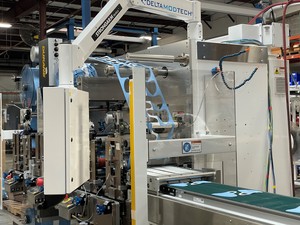 JBC Technologies is a custom manufacturer that converts flexible materials into custom die-cut parts that solve critical challenges for gasketing, sealing, bonding, joining, heat shielding, heat spreading, sound damping, and insulating as well as for applying long-term wearable medical devices, and other stick-to-skin applications.
We fabricate these custom parts using our vertically-integrated converting capabilities, which include…
High-Speed, Tight-Tolerance Rotary Die Cutting Presses – for intricate multi-layer parts. Example applications include fender trim tape, window seal assists, graphite heat spreaders for consumer electronics, fashion and beauty tapes, electrode assembly, and attachment.
Ultrasonic welding – for inline component assembly. Example applications include: face masks, face mask components
Wide Web Presses – For high volume, large part die-cutting. Example applications include insulating panels, sound damping panels, car door vapor barriers, hood liners, headliners, heat shields, and more.
Embossing & Microperforating – For improving the formability and acoustic performance of lightweight stainless steel and aluminum foil. Typically used in heat shielding applications such as

engine shields, tunnel insulators, dash insulators, hood insulators engine compartment exhaust shields.

Laminating – to add adhesives to foams, felts, non-wovens, and other performance materials.
Slitting – In-house slitting enables JBC to buy full-width rolls from the manufacturer and slit to the desired width for our converting processes—keeping costs down and reducing supply chain lead times.
We strive to add value at every stage, from Product Design Support to Process Engineering to Value Analysis/ Value Engineering
Product Design Support – Product design support ranges from aiding with material selection to part presentation recommendations to providing rapid prototypes
Process Engineering – Our seasoned process engineers have years of experience solving complex manufacturing problems and creating repeatable processes for difficult parts.
Value Analysis/ Value Engineering -- VA/VE is about finding a better way, designing a better process, and defining a series of enhancements that add value to a part by offering improvements that reduce time or material waste at later stages in the value chain. We work directly with customers to understand their manufacturing process so we can offer meaningful recommendations for improvement. Examples include: changes to part composition or presentation, automated assembly, product delivery systems, and more.

Play Custom die-cutting, flexible materials converting Video