Better EV Batteries Through Precision Die-Cutting
Service Detail from JBC Technologies, Inc.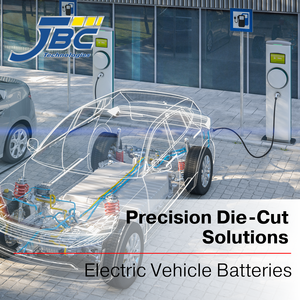 It takes a special materials converter to be able to meet, let alone anticipate the needs of the EV battery market. We are that converter. But, JBC Technologies is more than a materials converter and precision die-cutting expert with over 30 years of experience.
We've been serving the general automotive and industrial markets for decades and we're second to none when it comes to helping our automotive customers transform performance materials into custom solutions for
Bonding Sealing • Gasketing Thermal & Acoustic Management • Surface Protection • EMI/RFI Shielding
But EV batteries are different, right? You've got unique challenges and we've got custom solutions.
JBC Technologies and our industry-leading material manufacturers are a winning combination. Through this partnership we're able to offer our EV battery customers a powerful suite of options from which to choose all designed to address the specific needs of the EV battery and electric power generation space.
Read about these EV battery applications and more on our EV Battery Applications Page by clicking the More Info button above. If you're ready to talk EV battery applications with a JBC applications specialist, feel free to contact us today.