Die-Cut Tapes for EMI/RFI Shielding/Grounding
Featured Product from JBC Technologies, Inc.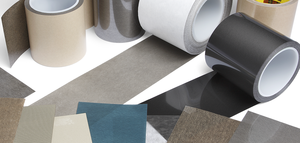 Without proper shielding and grounding, EMI and RFI can compromise performance by distorting and delaying data. Left unchecked, the interference will cause EMI noise and crosstalk, leading to a low signal-to-noise ratio, poor signals, higher error rates, and slower communication speeds. Higher frequencies, electronic components in closer proximity, and increasingly complex products compound the challenge. The good news is that in many cases all of this can be addressed with a piece of custom die-cut specialty tape.
Electrically Conductive Tapes & Films
3M Electrically Conductive Tapes & Films minimize EMI noise and crosstalk and provide EMI protection from a wide range of frequencies. They also adhere well to a variety of substrates and can be die-cut to the custom size and shape needed for your application.
Technical applications for die-cut 3M Electrically Conductive Tapes & Films include:
Electrostatic discharge (ESD)
Shield-can lid
Bond line gap shielding
PCB/flex/chassis grounding
EMI shield and gasket attachment
Electrical connectivity to medium pitch flexible circuits and PCBs
Flex circuit to flex circuit interconnection
Passive intermodulation (PIM) management
Turn to JBC Technologies for Custom Die-Cut EMI/RFI Shielding and Grounding Tapes
As effective as the 3M tapes and films are, they are even more effective when cut to the size and shape needed for your particular application. A 3M Preferred Converter, JBC Technologies has over 30 years of experience converting flexible materials into custom parts.
We use techniques like high-speed precision slitting and rotary and flat-bed die-cutting to transform the tape into the exact size and shape our customers need for their applications.
Examples of part presentations we can provide for EMI/RFI shielding tapes include: slit to custom widths, kiss cut to a liner, island placed on a liner, pull tabs for ease of assembly through cut, and even adhered to customer supplied parts.
But at JBC, our service extends well beyond the cut. We offer guidance on optimal part presentation – kiss-cut on rolls, pull-tab release liners, through-cut and bulk-packed – as well as early engagement and product consulting in the design stage, to custom-designed automated assembly solutions.
For more information, please Contact Us Today using our easy only form, or give us a call at 440-327-4522.