Die-Cutting & Thermal Management for Electronics
Service Detail from JBC Technologies, Inc.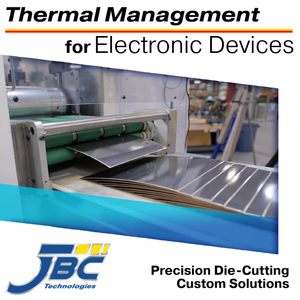 Our electronic devices work harder than ever, pushing the boundaries of microelectronic capability and device performance to the edge and beyond. This increased demand for high-performance, around-the-clock operation comes at a cost - unwanted heat.
Excess heat is not good for electronics, and it needs to be dealt with now.
Your flexible materials converter is one resource you may not have considered when searching for the right thermal management solution for your electronic devices.
We have a unique perspective on the electronic design challenges you're trying to solve and a deep understanding of the available material solutions to help.
This detailed and informative white paper from JBC Technologies investigates several options for managing excess heat in electronics, including
Flexible graphite
Thermally conductive gap pads & adhesive transfer tapes
Polymer films
Metal foils
From choosing the right thermal management materials to identifying the most effective way to use them, thermal management is a complex challenge that varies with every situation.
It's good to know there are many resources—including the flexible material converting specialists at JBC Technologies—to help you take on this task.
Click the More Info button above to download the entire whitepaper and when you're ready to work on your electronics thermal management project, contact us.