Ditch Mechanical Fasteners for Acrylic Foam Tapes
Featured Product from JBC Technologies, Inc.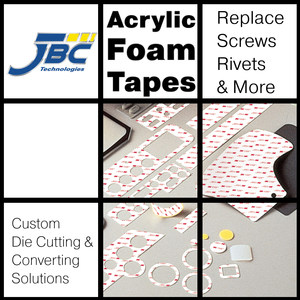 Acrylic Foam Tapes (AFTs) Have Changed the Adhesive Game
Imagine adhesive tape that's essentially a thin, flexible foam infused with a high-performance acrylic adhesive.
A pressure-sensitive adhesive tape that sticks to practically everything forms a strong bond immediately, moves, flexes, and bends with stresses, and can be used in temperatures as low as -40°F and as high as 300°F.
Now stop imagining.
Acrylic foam adhesive tapes are real, and they're awesome.
AFTs can replace
Screws • Rivets • Bolts • Spot Welds • Liquid Adhesives
You can save time, money, and headaches with custom components made with precision die-cut acrylic foam tape.
Open your design possibilities with thin, aesthetically-pleasing AFTs. Over the last 40 years, adhesive tape manufacturers including 3M, Avery Dennison, and AFTC have worked to perfect the art of high-strength, flexible bonding solutions with acrylic foam tapes.
3M VHB™ ♠ Avery Dennison AFB™ ♠ AFTC Silvertape™
Acrylic Foam Tapes: Replacing Screws, Rivets, and More will show you how these versatile PSA tapes are shaping the world around us. You'll read more about how AFTs
Have excellent temperature chemical and environmental stability
Offer high load-bearing performance
Protect against shock and unwanted noise
Bond readily to LSE materials
And how acrylic foam tapes are used in demanding industries including automotive, appliances, and consumer electronics.
Learn how acrylic foam tapes are an ideal solution for bonding, joining, assembly, sealing, NVH/BSR, and attachment. Read Acrylic Foam Tapes: Replacing Screws, Rivets, and More by clicking the More Info button above.
Are you ready to get started? Would you like to talk to the experts at JBC about custom die cutting and precision converting of acrylic foam tapes? Get started now - Submit your project details to JBC.