FREE Whitepaper: Thermal Management & Electronics
Service Detail from JBC Technologies, Inc.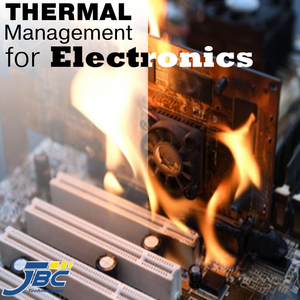 There's no denying that consumers are a demanding bunch – especially regarding our electronic devices. We want higher-resolution displays, faster processors, smaller, sleeker designs, and longer battery life. What we don't want, though, is a device that overheats and shuts down.
This is where electronics engineers and industrial designers come in.
Give consumers the performance improvements they want while ensuring that their electronic devices are cool enough to work properly.
We're a custom materials converter, and precision die cutter. We work with electronics manufacturers to help them solve their design and performance problems.
The combination of precision die-cutting and performance materials can often be the answer for electronics thermal management.
Lightweight components that work within the design constraints of the electronic device and do their job – help keep the device cool by removing unwanted heat.
We wrote a helpful and informative whitepaper on Thermal Management in Electronics, and it's full of information on how precision die-cutting and performance materials from 3M and Neograf Solutions can help manage the excess heat generated by today's electronics.
It's free, and it's a must-read for electronics designers or engineers.
The Science
Thermal Diffusivity • Heat Transfer • Thermodynamics • Design Considerations
The Methods
Heat Spreaders • Heat Sinks • Heat Shields
The Materials
Flexible Graphite • Thermal Interface Materials (Gap Pads, Thermally-Conductive Tapes) • Foils, Papers, & Films
It's no easy feat to keep electronics cool as we push them to their performance limits. You focus on innovating your electronics. We'll help you get there with unique, cost-effective thermal management solutions.
Download Thermal Management Solutions for Electronics Applications today and learn how partnering with us can help make your thermal management challenges a thing of the past. Once you've read it, we hope you'll never look at a design or engineering challenge the same way again.