Light-Gauge Aluminum Embossing & Microperforating
Service Detail from JBC Technologies, Inc.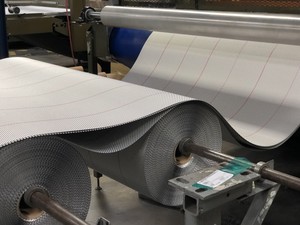 JBC has extensive experience sourcing, die-cutting, and converting light gauge aluminum foils and stainless steel to deliver quality parts made with your manufacturing process in mind.
JBC's capabilities include wide web embossing of 1-12 mil aluminum foil and 1-10 mil stainless steel up to 60" wide. Embossing, a process that adds a Z-axis to the material, provides for better formability during molding, minimizing tearing, especially in deep draw areas of formed shields.
At JBC, we don't just emboss and die-cut foil. If desired, we'll micro perforate foils up to 60" wide as well to improve the acoustical performance of the finished part.
In addition to die-cutting, embossing, and micro-perforating 1-12 mil aluminum foil and 1-10 mil stainless steel, JBC can laminate it to a variety of different insulation materials.
JBC TECHNOLOGIES: A PREMIER FOIL CONVERTING PARTNER
When you work with JBC Technologies you get more than just laminated, embossed, microperforated, or die-cut foil. You'll get a part that is optimized for deployment into your production processes.
At JBC we pride ourselves on helping our customers from the very early stages of their projects. We will work with you closely to take your project from early-stage design all the way through to full production and provide value at every step.
With state-of-the-art rotary presses, wide web presses, narrow web platen presses, and dieless cutting capabilities, as well as breadth of laminating, slitting, and other ancillary converting functions, we are one of the premier converters in the midwest.