Light-Gauge Metal Foil Converting: Embossing
Service Detail from JBC Technologies, Inc.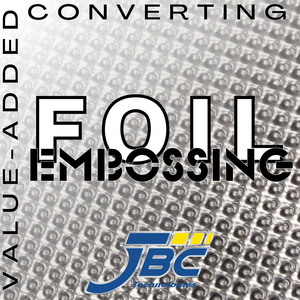 Embossing and heat shields – it just makes sense. For even their most challenging thermal management projects, more and more designers and engineers are turning to alternative lightweight materials like light-gauge foils and foil-faced adhesive tapes.
And embossing has become a standard part of the heat shielding package.
But why use embossing with your heat shields?
and
Why go to JBC Technologies for metal foil embossing?
Light Gauge Metal Foil Embossing for Heat Shields
Why Embossing for Metal Foils?
Embossing is when a metal roller imparts a textured surface to the foil. Embossing adds a third dimension or Z-axis (pattern of bumps) to the foil.
Embossing the metal foil of a heat shield provides four main benefits:
Better Formability • Increased Stiffness/Reduced Weight • Stronger Acoustic Insulation Properties • Improved Aesthetics
Why choose JBC Technologies for Metal Foil Embossing
Process Flexibility: Foils up to 60 inches (1.5 meters) wide, Gauges up to 12 mils (0.3 mm)
Experience: We have decades of foil converting experience and foil supply relationships.
Customization: Custom embossing patterns and heights
JBC Technologies: Your Partner for Value-Added Metal Foils Embossing
We have extensive experience sourcing, die-cutting, and converting light gauge metal foils. We regularly work with the most common alloys and gauges of aluminum and stainless-steel foil.
Learn more about our custom and toll processing of metal foils, including embossing, microperforating, and precision die-cutting, by clicking the More Info button above.
Contact us if you're ready to talk to a converting specialist at JBC Technologies about your embossing or metal foil converting project.