Lightweight Custom Die-Cut Heat Shield Solutions
Service Detail from JBC Technologies, Inc.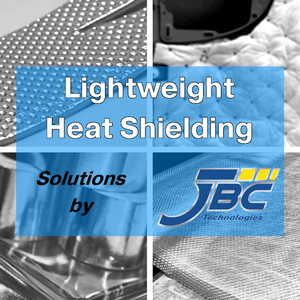 Unwanted heat and misdirected thermal energy can cause problems if not managed correctly. If by-product heat is left unchecked, it can make its way through neighboring metal conductors and even air spaces, where it can damage sensitive electronics and even lead to unnecessarily warm passenger cabins and overworked cooling systems.
A heat shield can be as simple as a blanket of non-woven fiberglass insulation under the hood of a car or as complex as a multi-layer, adhesive-backed thermal shield like TABshield formed into the exhaust tunnel of a car.
What all of these heat shields have in common, though, is performance materials. For over 30 years, JBC Technologies has been converting, die-cutting, and marketing heat shielding and thermal management materials to customers worldwide.
We custom die-cut and supply a wide variety of thermal management and acoustical solutions for manufacturers of on and off-road vehicles, industrial equipment, and other heat-generating machinery.
Examples of heat management and thermal insulation solutions we have processed include
Heat-activated adhesive coated aluminum foil
Microperforated stainless steel sheeting
Embossed composite heat barrier
Heat insulating and reflective adhesive tapes
High-loft, fibrous insulating fabrics
Flexible graphite with PSA backing
Do you want to partner with a truly innovative, precision die-cutter and material converter? Are you facing a heat management design challenge you'd like to discuss with our in-house engineers? Perhaps you'd like to explore material options for your next project. Submit your project, problem, or idea today, and our team will get to work on a solution for you.