Medical-Grade Die-Cutting & Contract Manufacturing
Service Detail from JBC Technologies, Inc.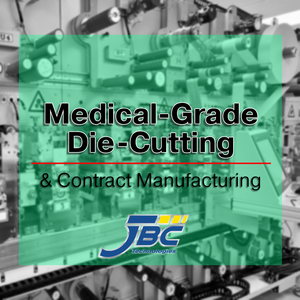 Medical-Grade Die-Cutting & Contract Manufacturing Services
JBC Technologies is an ISO 9001:2015 certified manufacturer with the experience and know-how to offer in-house converting services that include kiss-cut part presentation, touchless digital cutting, rapid prototyping, cleanroom die-cutting, assembly, custom kitting, and packaging.
Our engineering and materials application knowledge includes the many high-performance specialty materials used in today's most in-demand wearable medical devices and other sensitive electronic applications.
JBC Converts Many Medical-Grade Performance Materials
aluminum shielding & foils • filtration media • foams • adhesive tapes • porous membranes • thermal management • sound/vibration control insulations
JBC Technologies counts many Fortune 500 medical corporations among our customers
We provide high-quality parts as well as components and sub-assemblies. JBC is also pleased to offer design and engineering services for customers seeking to improve their contributions to the healthcare industry while maintaining strict control over production costs and product quality.
Medical-Grade Die-Cutting and Contract Manufacturing Services Provided
Design Assistance
Rapid Turnaround Prototyping
Clean Room Die Cutting
Kiss-cutting
Medical Tape Lamination

Packaging including Custom Foam Insert
Kitting and Assembly
Digital Cutting
Precision Slitting
Laser Cutting
JBC ensures that all the medical-grade products and services we provide are made according to the latest ISO and FDA standards.
Our HEPA filtered, temperature and humidity-controlled cleanroom is certified ISO 8/Class 100000 Clean Room (ISO 7/Class 10000 available). Click the More Info button above to learn more about our cleanroom manufacturing capabilities. Here, you can also read about our dedicated 10-station DCS high-speed rotary die-cutting press.
Contact JBC Technologies for more information or to get started on your medical component project today.