Precision Converting: ISO 8 Cleanroom Die-Cutting
Service Detail from JBC Technologies, Inc.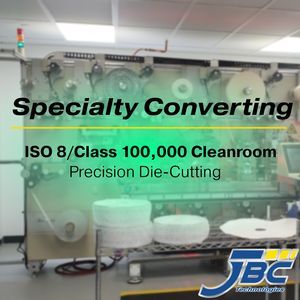 JBC Technologies is proud to offer our customers the option of an ISO 8 / Class 100,000 Cleanroom manufacturing environment with a dedicated Dorey Converting Systems high-speed, 10-station, precision rotary die-cutting press.
We have customers that demand the quality and consistency that only a cleanroom manufacturing environment can provide, and we have invested in the capabilities to meet their needs.
Our ISO 8 Cleanroom is all about control. Through this control, we can ensure that our customers receive products that meet and exceed required quality standards while minimizing product uncertainty and increasing confidence and repeatability. Our cleanroom customers come from all industries, including
Medical • Electronics • Automotive • Aerospace • EV Battery
The JBC cleanroom features HEPA air filtration, temperature and humidity level controls, and static charge mitigation. As a result, we can repeatably produce, package, and assemble large volumes of high-quality, environmentally-sensitive die-cut parts and device components.
JBC can laminate multiple materials in-line, die-cut, inspect, and package within the cleanroom environment.
The JBC Technologies Difference: Cleanroom Die-Cutting for Medical & Electronics Applications
Click the More Info button above to learn more about the ISO 8 clean room at JBC Technologies headquarters in North Ridgeville, Ohio, and see if it might be a good fit for your next custom die-cutting project.
Or Contact Us today so we can get started.