Precision Converting: Medical Grade Adhesive Tapes
Featured Product from JBC Technologies, Inc.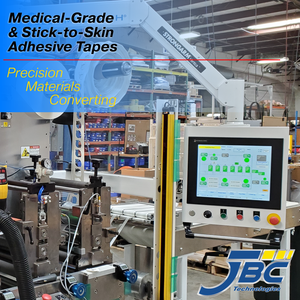 At JBC Technologies, we pride ourselves on our ability to not only meet but exceed our customers' expectations, regardless of the product application or the industry. That's why there can be no compromise when it comes to delighting our medical customers.
We have in-house engineering and technical expertise. We've partnered with the world's best medical-grade PSA tape manufacturers. We've invested in the improvements that allow us to compete at the highest levels of medical materials converting.
Our Manufacturer Partners
DermaMed • 3M • Adchem • Avery Dennison
Our Investments
Your Requirements
Tight tolerance precision
Ultrasonic Welding
Pull-tabs
Multi-material laminations
Island Placement
JBC Technologies: Your Medical Device Manufacturing Partner
It takes a unique converter like JBC Technologies to be able to process the sensitive and unforgiving medical-grade materials your project needs. Going from design concept to final cut shouldn't be a drain on your time or your patience.
Our team will work directly with you during the entire manufacturing process - from material selection to finished parts - to ensure that the custom solutions you want are the ones you get.
You can learn more about our focus on medical-grade tapes and stick-to-skin adhesives by clicking More Info above.
If you'd like someone from JBC to contact you regarding your next medical-grade project, you can use our Contact Us page right now.

Play Precision Converting: Medical Grade Adhesive Tapes Video