Precision Die-Cut Foam Tapes
Featured Product from JBC Technologies, Inc.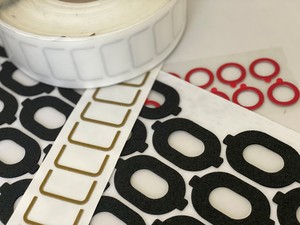 When it comes to cushioning, gasketing, mounting, insulating, sealing, and vibration dampening, it's hard to beat the versatility of foam tapes. But foam tapes are typically manufactured in standard roll widths and lengths, so unless your application calls for squares and rectangles that match those standard sizes and you don't mind the added labor of cutting them out yourself, you'll need custom die-cutting.
At JBC Technologies, we die-cut foam tapes into custom shapes, often with complex internal geometry, that match the specific needs of a multitude of applications.
Common applications for die-cut foam tapes include:
Gasketing
Sealing against air, dust, and moisture
Minimizing BSR (buzz, squeak, and rattle)
Replacing screws, rivets, and other mechanical fasteners
Attaching emblems
JBC Technologies is your one-stop resource for precision die-cut foam tapes.
Our range of flexible materials converting equipment includes high-speed, tight-tolerance rotary presses, hot and cold melt laminators, and narrow and wide web hydraulic press machines. Couple our manufacturing capabilities with our extensive team of knowledgeable and experienced process engineers and our decades-long strategic partnerships with some of the best material manufacturers in the industry, and it's easy to see why JBC Technologies leads the way in custom die-cutting.
Let's make something great together. Contact JBC Today.