TABshield & Ford Heat Shield Spec WSS-M99P32-E6
Service Detail from JBC Technologies, Inc.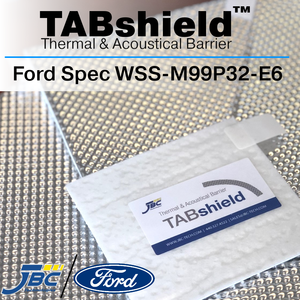 What does this mean for you regarding automotive heat shielding options?
Your choice is clear with TABshield.
We've made multi-layered, peel & stick TABshield barrier since 2019, and while we've seen limited success in alternative, non-spec-driven markets...
Industrial ♦ Machinery ♦ Appliances ♦ Marine
our ability to grow the TABshield business within the automotive OEM and specialty heat shielding spaces has been hampered by our lack of specification approval.
...having TABshield meet the stringent performance requirements of such a critical Ford specification — along with accelerated weathering and automotive fluids exposure testing designed to mimic real-world road conditions— means that we can now show you the numbers.
Learn more about what it took to pass the Ford WSS-M99P32-E6 spec by clicking More Info above.