TABshield™ Peel-&-Stick Heat and Sound Insulation
Featured Product from JBC Technologies, Inc.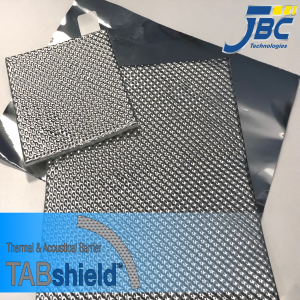 TABshield's standard triple-layer design is specially-engineered to target excess heat and noise without the weight and BSR often associated with traditional, solid metal stamped shields. The TABshield base construction features a durable, aluminum foil facing, ceramic/PET blend insulation core, and general-purpose high-bond pressure-sensitive adhesive backing.
TABshield is available in several standard configurations and can be purchase as rectangular patches or in 48" x 200LF rolls. TABshield can also be customized with the following:
Low-Surface Energy (LSE) adhesive backing for difficult to bond to surfaces
All-fiberglass insulation core / High-performance adhesive for extended high temperature applications
Aluminum embossing / microperforating for enhanced conformability and sound reduction
Easy-peel pull tabs for more efficient liner removal during installation
Applications for TABshield
Engine shields • Tunnel/Dash Insulators • Under-hood Protection • Engine Compartments • Exhaust Shields • Marine • Appliance • HVAC • More
Are You Ready for TABshield Thermal/Acoustic Insulation?
Order your FREE TABshield sample kit today or download the TABshield product data sheet to learn more. We're ready when you're ready, so contact JBC Technologies to discuss your next heat or noise abatement project with us.