Your Guide to 3M™ VHB™ Acrylic Foam Tapes
Featured Product from JBC Technologies, Inc.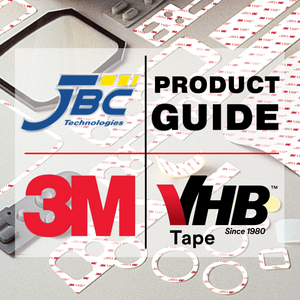 The versatility and performance of 3M™ VHB™ tapes are unparalleled. We have decades of experience creating custom die-cut parts with VHB™ tape. Parts that have helped designers and engineers realize their visions.
For over 40 years, 3M™ VHB™ Tapes Have Enabled Design Innovation.
3M™ VHB™ double-sided foam adhesive tapes are more than just another PSA tape. VHB acrylic foam tapes from 3M
Offer a thin profile for aesthetics
Have incredible weather resistance
Assemble quickly
Can be die-cut into precision shapes
Can eliminate spot welds and mechanical fasteners
We can create custom die-cut solutions with 3M VHB tape that perfectly fit your application. Our VHB selection guide is a great place to start. Click on the More Info button above and browse through the entire family of 3M VHB tapes.
Transportation ♦ Metal Fabrication ♦ Construction ♦ Electronics ♦ Signage ♦ Appliance ♦ HVAC
Choose the right adhesive thickness, bond strength, temperature rating, and solvent resistance.
And when you're ready to work with us to convert your precision die-cut part design concepts into reality, you can contact us with the details. We'll even help you get a sample of VHB tape so that you can evaluate it on your own.