High torque, 50 rotational direction changes/sec.
Featured Product from jbj Techniques Limited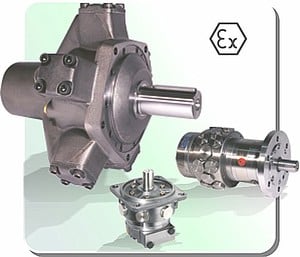 » shaft end can be subjected to high radial and axial forces
» only very few moving parts in the rotating group
» extremely low moment of inertia
» instrument shaft may be fitted
» low leakage-built in wear compensation
» suitable for use with fire resistant fluids
» low maintenance
» small ports are B.S.P. type G threads according to ISO 22811
» full torque available over complete speed range
» immediately reversible
» high starting torque
» no counterpressure necessary when operated as a motor
» suitable for use as pumps with boosted system
» eminently suitable for control systems
» control of feed and discharge possible
» may be operated in parallel
» total efficiency up to 96%
» SAE Flange connection
These hydraulic motors have a high starting torque, ideal for instance, for safe operation of the heavy gates on the material lock in a nuclear power plant or to hand over the weighty coils in a rolling mill.
Due to the low amount of revolving mass, the rotational direction can be quickly changed a feature very important in many test benches; when performing vibration tests on motorcycle forks or when testing the adjustment of wing flaps on aircrafts. The components can perform up to 50 rotational direction changes per second.
An exact adherance to the specified rotational speed profile is of essential importance for many fields of application of hydraulic motors. Here is a new generation of motors, for which a significantly improved constancy of rotational speed is achieved compared to conventional motors.
As showcased at Offshore Europe 2015, stand 3E145, 8 - 11 September 2015, Aberdden, Scotland, United Kingdom.