Hydraulic Gear Motors HIGH OVERALL EFFICIENCY
Featured Product from jbj Techniques Limited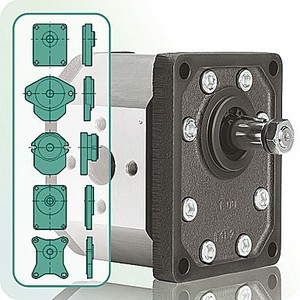 Gear motors convert hydraulic pressure and flow into torque and angular displacement, rotary mechanical power, applied to a load via the shaft.
These hydraulic gear motors have high overall efficiencies, normally above 90%. The product range is available in a wide range of mounting flanges and port sizes, to meet European and international standards including SAE and DIN.
Teflon® coated shaft-bearing surfaces are available for long service life.
For power take-off flexible couplings are preferred for direct drives. For higher outboard side loads, motors are available with reinforced front bearing.
An excellent range of hydraulic gear motors with good starting characteristics and good volumetric and mechanical efficiency for all types of industrial process, heavy plant, agricultural and commercial equipment.
Link to ALM Series Gear Motors technical specification brochure.
For medium to high pressure rates the ALM series is ideal for mobile and industrial sectors. Mono-directional and bi-directional with internal and external drain available.
Link to GHM Series Gear Motor technical specification brochure.
The GHM series offer identical configurations to the ALM series but more robust thanks to the cast iron front flange and rear cover.
Link to Concentric Gear Motors technical specification brochure available from jbj Techniques Limited.
* For information, help and assistance please visit www.jbj.co.uk or email: info@jbj.co.uk or telephone: +441737767493

» product specification: team of design engineers to assist in design process simple or complex, standard or bespoke.
» prompt product supply: large stocks for next day delivery on many items.
» machine shop: full machining services for bespoke designs.
Further details: https://www.jbj.co.uk/gear-pumps.html