Hydraulic motor-pump sets
Featured Product from jbj Techniques Limited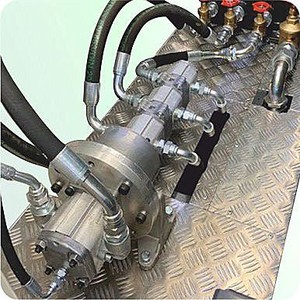 Providing a solution based upon your application requirements.
jbj Techniques can design and build motor-pump assemblies from the extensive stock of
hydraulic gear motors
and
hydraulic gear pumps
, creating custom
adaptors
to mount the gear pumps to the motor again from extensive stocks of
bellhousings
and
couplings
and use of our excellent machine shop facilities. Full design drawings provided for reference and approval before build.

» product specification: team of design engineers to assist in design process simple or complex, standard or bespoke.
» prompt product supply: large stocks for next day delivery on many items.
» machine shop: full machining services for bespoke designs.
A motor pump set consists of a prime mover such as a petrol / diesel engine, electric, hydraulic, or air motor connected to a fluid pump / gas pump via a coupling or a bellhousing and coupling combination. The advantage of using a bellhousing being that full concentricity is maintained between the prime mover and the connected pump, thus negating the potential of an early coupling failure due to shaft to shaft misalignment.

High quality mechanical and fluid power products are always available straight from our comprehensively stocked warehouse, but, we are more than that! If you need more, be it the smallest drive component through to complex drive line component packages, then speak to our experienced sales team who will provide a solution based upon your application requirements.