Hydraulic power take-off units (PTOs)
Featured Product from jbj Techniques Limited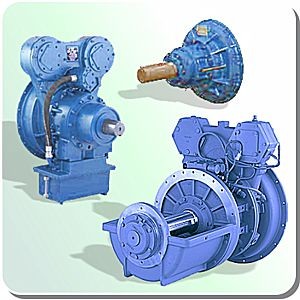 Available in side-load straddle-bearing clutched models, in-line clutched and non-clutched models. For similar applications as the mechanical PTOs. Hydraulic clutches can be used wherever a disconnect is required between driven equipment and the prime mover.
Hydraulic wet clutches . . . .

To see the hydraulic PTOs use these 5 links:
1 » HP series: In-line or side-load applications to 783 kW (1,050 hp) @2,100 rpm.

2 » HPTO series: In-line or side-load applications to 1119 kW (1,500 hp) @2,100 rpm.

3 » PFI series: Pump mount or shaft output with integrated oil pump. Up to 380 kW (510 hp).
Hydraulic dry clutches . . . .

4 » RC series: Remotely actuated via hydraulic circuit.

5 » RO series: Remotely actuated via hydraulic / pneumatic circuit PTO line. Up to 11388.87 Nm (8,400 ft-lb). Straddle bearing housing available.
Two new selection guide documents available via the two following links: Hydraulic power take-off and manual power take-off selection guides. Including all specifications of the range to allow correct choice of unit for the application. To suit manufacturing process industry, factory machines, test rigs and test benches, commercial vehicles, agricultural and heavy plant machinery, lifting machinery, mining industry, offshore industries and renewable energy technologies, a vast range of mechanical power transmission systems.
jbj Techniques is a specialist manufacturer and distributor of high quality products for the mechanical power transmission & fluid power sectors.
» product specification
team of design engineers to assist in design process simple or complex, standard or bespoke.
» prompt product supply
large stocks for next day delivery on many items.
» machine shop
full machining services for bespoke designs.
High quality mechanical and fluid power products are always available straight from our comprehensively stocked warehouse, but, we are more than that! If you need more, be it the smallest drive component through to complex drive line component packages, then speak to our experienced technical sales team who will provide a solution based upon your application requirements.
jbj's team is recognised for its expertise in the selection and configuration of hydraulic and mechanical transmission systems. Able to draw on an extensive product range that provides the building blocks for bespoke systems both large and small, the in-house design team offers a complete service, ranging from an assessment of customer requirements to full technical backup, including product specification, CAD based system design, system build and certification. Moreover, customers can take advantage of jbj's own in-house, machine-shop facilities and skilled engineers to guarantee quality and control costs.