Low speed, high torque (LSHT) hydraulic motors.
Featured Product from jbj Techniques Limited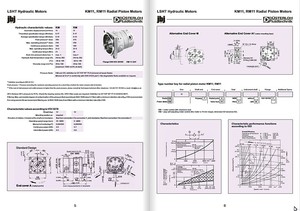 Explosion protected radial piston motors.

Technical specification catalogue available for KM11 to RM250N radial piston motors. Hydraulic radial piston motors with fixed displacement, conform with ATEX directive 94/9/EC, applied standards EN 1127-1, EN 13463-1, EN 13463-5.
» up to 50 rotational direction changes per second.
» high starting torque.
» total efficiency up to 96%
» shaft end can be subjected to high radial and axial forces.
» only very few moving parts in the rotating group.
» extremely low moment of inertia.
» instrument shaft may be fitted.
» low leakage-built in wear compensation.
» suitable for use with fire resistant fluids.
» low maintenance.
» small ports are B.S.P. type G threads according to ISO 22811.
» full torque available over complete speed range.
» immediately reversible.
» no counter-pressure necessary when operated as a motor.
» suitable for use as pumps with boosted system.
» eminently suitable for control systems.
» control of feed and discharge possible.
» may be operated in parallel.
» SAE Flange connection.
Visit www.jbj.co.uk/hydraulic-motors.html for further details and a series of 3 technical specification catalogues for your information and reference.