Planetary Gearboxes output up to 1,000,000 Nm.
Featured Product from jbj Techniques Limited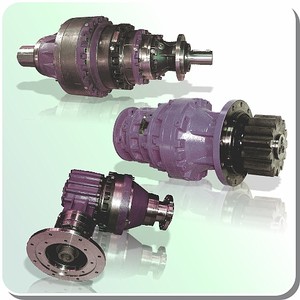 Complete selection of planetary gearboxes which include rotating shaft, rotating case, in-line and right angle output. Full range of multi-purpose planetary gears. Input can be via electric motor, hydraulic motor, air motor or bare input shaft, be it either a splined or parallel keyed input shaft.
jbj Techniques can accommodate gearbox inputs to suit your own bespoke requirements, even for a one off!
Designed for rugged use and dependability. The gear case is made of nodular iron, whilst the planet carriers, are made out of steel or high-tensile nodular iron. All gearing is heat treated with full addendum modification, as well as lead and profile modification in order to obtain the best performance, efficiency, and low-vibration. The close tolerances in all of the gears and floating planet carriers allow the load to be evenly shared by all the components.
Spline profiles on the gears allow them to handle even larger loads. The all-roller bearing design for the planet gears allows for greater efficiency and superior start-up torque.
Specification of planetary gearboxes found in this on-line » catalogue « link.