Pump drives ~ multiple power take-off units
Featured Product from jbj Techniques Limited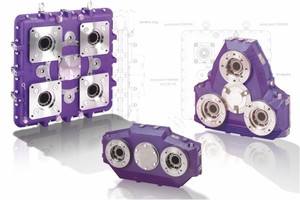 Characteristics of the multiple power take-off, splitter gearboxes
The multiple pump drive range of equipment allows a single or a multiple of pumps to be driven from a single prime mover.
Single pump drives allow a pump to be close coupled to a diesel engine that has a flywheel and flywheel housing in accordance with SAE standards (non standard can also be accommodated). Supplied in a kit format consisting of a bellhousing fully machined to suit the particular pump mounting and a flexible coupling to suit the engine flywheel and particular pump shaft.
Multiple pump drives allow two or more pumps to be driven from a single prime mover.
Available in a number of mounting formats, sizes and increasing and decreasing speed ratios.
All models may be close coupled directly to the prime mover (Model B) or may be fitted with an over-centre clutch (except AM 365 and AM 480) for close coupling (model BD) or for independent mounting (model BDS).
The multiple pump drive units are constructed from:-
» cast iron casings.
» straight tooth gears case hardened and ground.
» ball bearings.
» case hardened shafts.
» Viton seals on input shafts.
The input shaft is splined to the primary drive gear which transmits the drive to the secondary gear on whose axis drives the pump. The direction of rotation is therefore opposite from input to output.
Selection
The five fundamental elements of selecting a pump drive are:-
1) The number and type of pumps. Depending on the overall dimensions of the pumps and associated pipework it is possible to establish the maximum centre distances required.
2) Maximum torque requirement of each pump output. Verify that the maximum torque requirement is below the maximum value for each chosen pump or combination of pumps.
3) Maximum input torque. Verify that the maximum input torque is below the maximum indicated value for the particular model. In the case of a pump drive fitted with an over-centre clutch (models BD and BDS) it is important that the input torque is at least 20% below the maximum transmittable for that particular clutch.
4) Maximum input speed. Verify that the maximum input speed is below the maximum value indicated for that particular model. Check that the pump direction of rotation is opposite to that of the prime mover.
5) Service factor. A suitable safety factor should be applied to ensure the Integrity of the drive.
jbj Techniques 'AM' splitter gearboxes (or multiple PTO) are available in a number of mounting formats with various increasing and decreasing ratios. Maximum input torques up to 5,600 Nm can be accepted as standard whilst higher powers can be accommodated by the use of oil cooling. All units can be supplied with either hydraulically or mechanically actuated clutch units.
A helpful step by step guide to pump drives: how-to-select-the-right-pump-drive-for-an-application-learning-the-basics
Full specifications of multiple PTOs found at www.jbj.co.uk/splitter-gearboxes.html
All components can be machined in-house at jbj Techniques to customer specification to suit many applications.
www.jbj.co.uk/drive-line-harmony.html
Team of highly qualified and experienced engineers to assist in the correct specification of mechanical power transmission and fluid power components. Telephone: +44 (0)1737 767493 or email info@jbj.co.uk
jbj Techniques Limited; quality products for mechanical & fluid power . . . www.jbj.co.uk