Explosion Protected Radial Piston Motors
Featured Product from jbj Techniques Limited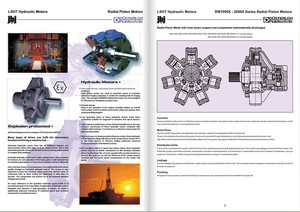 Low speed, high torque (LSHT) hydraulic motors.
Latest technical specification catalogue for the RM1000X to RM5000X series hydraulic rotary piston motors. With fixed displacement, conform with ATEX directive 94/9/EC, applied standards EN 1127-1, EN 13463-1, EN 13463-5.
» up to 50 rotational direction changes per second.
» high starting torque.
» total efficiency up to 96%
An efficient, robust range of hydraulic motors.
The high precision motor can achieve speeds of significantly less than 1min-1 with already good constancy of speed in unregulated operation. The maximum speed is still up to 2000 min-1, depending on the motor size. The radial piston hydraulic motor has been designed with a high load capacity. It is efficient, has a low moment of inertia and is capable of very low speeds and has excellent reversing properties.
The concept features make it extremely quiet, being suitable for servo control systems with facility to work either as a motor or pump in both directions.
Drive Motor: consists of a close grain, high strength, cast iron cylinder block. Eccentric crankshaft concept.
Operating characteristics: five radial piston/connecting rod assemblies bear on the crankshaft which is located by heavy duty tapered roller bearings.
Crankshaft bearings: preloaded to take the thrust in both axial directions, ensuring silent running and allows heavy radial and axial loading on the output shaft (e.g. gear drives).
Visit www.jbj.co.uk/hydraulic-motors.html for further details and a series of 3 technical specification catalogues for your information and reference.
...