JDN Hoists with nickel-plated surface
Featured Product from J.D. Neuhaus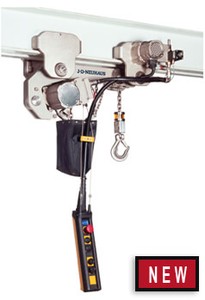 With immediate effect the following JDN Hoists are available in nickel-plated version with a plating thickness of 25 µm:
JDN Air Hoists PROFI 05 TI and PROFI 1 TI,
Manual Trolleys, Motor Trolleys and motorised Low Headroom Trolleys (reduced headroom) up to 1 t capacity
JDN Big Bag Handling Hoists BBH 1000
The nickel plating includes: motor, gearbox, centerpiece, trolley, driving motor, traverse.
Typical application areas
Chemical and pharmaceutical companies
Food and drinks industry
Clean rooms
Standard features
Corrosion resistant
Resistant to high levels of humidity
Easy to clean
Suitable for lube-free operation
Ex-proof (ATEX)
Options
Stainless steel chain1
Stainless steel load hook and sleeve1
Stainless steel top hook1
Chain bag, plastic chain box, galvanised chain box
You are interested?
Then just contact us.
1Stainless steel chain and hook reduce the load capacity to 0,75 t