HOISTS FOR HYGIENICALLY CRITICAL AREAS
Featured Product from J.D. Neuhaus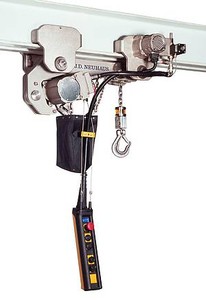 NICKEL PLATED HOISTS SUITABLE FOR HYGIENICALLY CRITICAL AREAS
Selected models from the J D Neuhaus range of air operated hoists and trolleys are now available for clean room operations and other specialist applications that also require hygienic working conditions. These include chemical and pharmaceutical production establishments, together with the food and drink industries covering all aspects of both handling and manufacture.
With a plating thickness of 25 µm, the hoists ensure resistance to environmental humidity as well as providing a good general corrosion resistance. The typical component parts of the hoist units that are subject to the nickel plating process include the lift/lower motor together with gearbox and the main centrepiece body. Where the hoist is trolley mounted for overhead rail operation, the trolley body and both driving and traverse motors are also nickel-plated.
Further protective features also available include the provision of stainless steel options for the top suspension hook, both the load hook and sleeve, together with the lift/lower chain mechanisms and 12 metre capacity chain bag. Specification of the stainless steel hook and chain does limit the lift capacity to 750kg however. Further options include plastic chain boxes suitable for 3, 6 and 12 metre chain lengths together with a 12 metre galvanised chain box.
A further positive aspect of the products is the fact that the lift motor does not require lubrication and all hoists are classified as explosion protected to comply with Directive 2014/34/EU [Equipment & Protective Systems Intended for use in Potentially Explosive areas (ATEX)]. The hoists are also classified as capable of 100% duty rating with no downtimes.
The models currently available in the nickel-plated range include: the Profi TI hoists with 0.5 and 1 tonne lift capacities, together with a big-bag handling unit with a rated 1 tonne lift. A low headroom trolley hoist of 1 tonne capacity is also available, which is designed for operation in areas subject to low headroom capacity. Where Profi hoists are utilised with trolleys for overhead rail mounting, both manual operated (type LN) and motorised (type LM) trolleys can be provided which have also been subject to appropriate nickel-plating treatment for use in hygienically critical areas