Manual Bar Chamfering Machine
Product Announcement from J.F. Berns Company, Inc.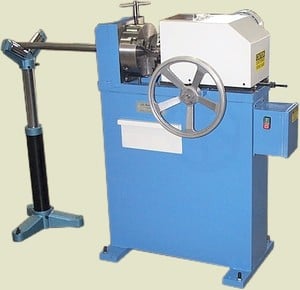 Chamfering Machines: The J.F. Berns Company can provide you with solutions to both manual and automatic chamfering and facing needs.
Bar Champ Manual Bar Chamfering Machine
Low Cost, Heavy Duty, Proven Design
Round, Hex, Square bar stock
Chamfer, Turn, Face and Center Drill tooling available
Up to 4.5" diameter bars
Uses standard 8-sided carbide inserts
Very low maintenance
No Change Parts
Self-centering chuck holds concentricity on diameter variations
Removable chip pan
Manufactured in USA Contact us today for a quote!
Barfeeder Application: In order to run the largest bar stock diameter with a barfeeder that uses a collet style pusher, the bar must be turned down. The Bar Champ with the T5279-1.000 Turn and Chamfer tool is the answer. Also, chamfering the front of the bars with a 30 degree cfhamfer will also help ensure that the bar loads properly.
---