0.5-18.0 GHz Solid-State RF Switches
Featured Product from JFW Industries, Inc.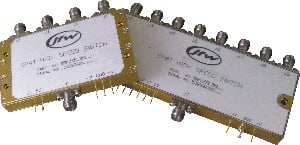 The 50S-1720 (1P2T), 50S-1721 (1P4T), and 50S-1722 (1P8T) are JFW's newest line of PIN-Diode RF switches. They boast an operating frequency from 0.5-18GHz, 50dB minimum isolation at 18 GHz, and a maximum switching speed of 100 nanoseconds. Their compact, self-terminating design makes them perfect for OEM and test applications where reliability, speed, or bandwidth is critical. SMA female connectors and TTL control are standard, but other configurations may be available upon request. For more information, Email JFW Sales.