100 Watt Fixed Attenuator with Narrow Diameter
Featured Product from JFW Industries, Inc.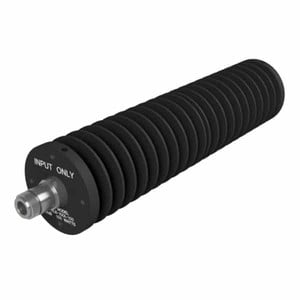 JFW model 50FHLB-xxx-100 is a 100 Watt fixed attenuator with 50 Ohm impedance. The unit is uni-directional due to its unusually narrow heatsink design. The 100 Watt heatsink is only 2.25 inches in diameter and 9.08 inches in length. The attenuator can be panel mounted using the four 8-32 mounting holes on each end of the heatsink. It operates DC-3000 MHz and is available with 10dB, 20dB or 30dB attenuation values.
This attenuator model was originally designed for a customer who had a defined location in a rack mount RF sub system. The attenuator had to fit the height allowed. If you also have restricted dimensions, please contact us for attenuator size options.