50MS-211 RF Matrix Switch System
Featured Product from JFW Industries, Inc.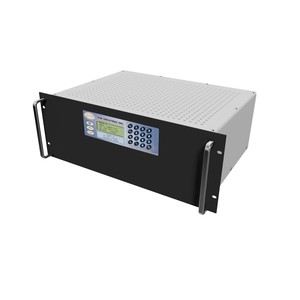 A blocking matrix switch is constructed with switches on both the input ports and the output ports. Each input signal can be switched to only one output port at a time.
The two most notable advantages of a blocking matrix switch are insertion loss and isolation. Because the matrix construction uses only switches, the insertion loss will be lower than any other matrix configuration. Using only switches also makes it possible to maintain very high isolation from input to output because switches have better isolation characteristics than power divider/combiners. The one disadvantage is that each input is only available to a single output.
50MS-211 RF Matrix Switch System Features:
JFW Model #: 50MS-211
Impedance: 50 Ohms
Configuration: 4 x 8 Blocking RF Matrix Switch
Unused Ports: Reflective
Frequency Start: 0 MHz (DC)
Frequency Stop: 6 GHz
RF Input Power: 1 Watt
RF Connectors: SMA