50S-1820 and 50S-1821 Solid-state RF Switches
Featured Product from JFW Industries, Inc.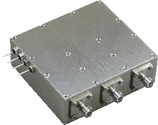 Introducing the 50S-1820 and 50S-1821 from JFW, our latest innovations in our line of high-power, solid-state RF switches. The 50S-1820 is capable of switching 100-Watts of RF power from 800-2700 MHz (cold switch), while the 50S-1821 will switch 75-Watts from 800-3000 MHz. Both switches boast 10-Microsecond switching speeds and a minimum isolation of 55dB. Available with SMA, N, BNC, or TNC connectors.
50S-1821 Spec Sheet
50S-1821 Drawing
50S-1821 Quote