50S-1832 High Power Solid State Coaxial RF Switch
Featured Product from JFW Industries, Inc.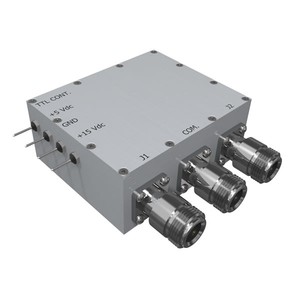 Model 50S-1832 is a high peak power 50 Ohm solid-state reflective 1P2T RF switch operating 960-1300 MHz. The RF power rating for this 1P2T is 200 Watts average (cold switch) and 1000 Watts peak with 35 microsecond pulse width. The unused port is reflective. It is available with 50 Ohm RF connectors: SMA or N female. This 1P2T has one control line. The control line is activated with TTL signal levels.
JFW Model #: 50S-1832
Switch Configuration: 1P2T
Switch Type: Reflective
Frequency Start: 960 MHz
Frequency Stop: 1300 MHz
Switching Speed: 10 uS
RF Input Power: 200 Watts (Cold Switch)
Isolation: 40 dB