75P-167 - 75 Ohm Programmable Attenuator
Product Announcement from JFW Industries, Inc.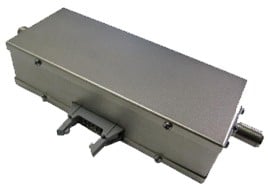 The new 75P-167 from JFW Industries is our latest solid-state, 75-Ohm programmable attenuator. It offers 127 dB of dynamic range with 1 dB resolution. Specifically designed for DOCSIS and MoCA testing, it operates from 800-2200 MHz and switches attenuation settings in less than 2 microseconds.
F Female connectors are standard, but other options are available upon request.
Email JFW Sales about this product.
75P-167 Spec Sheet

75P-167 Drawing
View our latest advertisement featuring
JFW's new "75 Ohm Programmable Attenuator".
All specification sheets and outline drawings are linked on the HTML.
75 Ohm Programmable Attenuator Advertisement
---