New Low Cost Attenuators from JFW
Product Announcement from JFW Industries, Inc.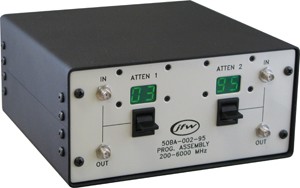 The 50BA- series from JFW Industries is an all-new line of variable attenuator systems. These plug-and-play modules come complete with Ethernet / RS-232 interfaces as well as manual control (via Momentary Lever Actuator Switches with 7-segment digital display). Designed to be easy to use, compact, and affordable; the 50BAs are available with one or two channels of attenuation (0-63dB or 0-95 dB in 1dB steps) and operate from .2-6 GHz. Custom designs are also available.
---