Resistive Coupler w/ 10dB Bi-directional Coupling
Featured Product from JFW Industries, Inc.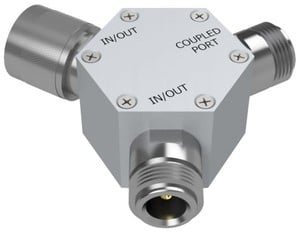 FW model 50C-053-XX is a 50 Ohm resistive coupler available with 10dB coupling value. This model covers DC to 3.1 GHz and is rated for 5 Watts. The most popular RF connector configuration is N male/N female/N female. The unit is available with N or SMA connectors with any male/female configuration.
Resistive Coupler Features:
Couples in both directions
Couples DC and RF signals
Variety of RF configurations
Available in 50 Ohm or 75 Ohm
Custom coupling values available