Bending Multiple Tubes at One-time
Featured Product from J&S Machine, Inc.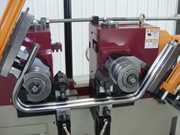 YLM double-head compression hydraulic tube benders are high production benders capable of making two bends simultaneously. The CR-T38D and CR-T50D are NC controlled with the ability to bend multiple tubes at one-time. The Bend angles can be adjusted to bend at the same angle or two separate angles. The YLM Double Head Benders are the perfect choice for high production two end bending. YLM Double-Head Benders are suitable for these industries Automotive, Furniture, Hardware, or parts requiring symmetrical bending.
Watch>>>YLM T-50D, Double Head Tube Bender, 60-120 Deg
Double Head Compression Benders
The YLM CR-F38D has the same features as the CR-T38D but is also capable of bending parts with bends on more than one plane. To do this the bend heads are mounted on two rotary tables that can be adjusted to perform multi-plane bends.
Double-Head Bender Features:
Proportional pressure controlled hydraulic driven rotation of wiper around the bend die
Hydraulic clamping of tube between bend die and clamp block
Hydraulic actuation of pressure die
Adjustable bending angles from 0 to 180 degrees
Each side can be set to different degree of bends
Automatic or manual operation
Each side speed controlled individually
Easily accessible multiple Emergency Stops
Possibility to adjust timing between each motion
Safety scanners and light curtains (optional)
Material profiles that can be bent on a Double-Head Bender:
Round Tube or Pipe
Square or Rectangular Tube
Angle Iron
Solid Bar
Aluminum Extrusions
Flat Stock
J&S Machine, Inc. is a premier distributor of SIMASV, Tre C, and YLM metal fabrication equipment with an emphasis in the areas of bending and cutting for a variety of industries. We provide complete turn key solutions ready to go into production when the machines arrive at our customer's facilities.
J&S Machine, Inc. provides complete R&D assistance, tooling design, testing, in house training and 24 hour service after the sale. Along with our suppliers we have 120 plus years of combined experience implementing and developing solutions for metal bending and cutting. Contact us today for a solution to your needs.