CNC, NC & Conventional Pipe Bending Machines
Featured Product from J&S Machine, Inc.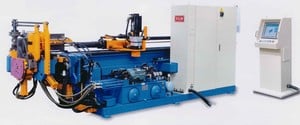 J&S Machine, Inc. is a premier distributor of YLM, 3C-CLOMEA, SIMASV, & Garboli metal fabrication equipment with an emphasis in the areas of bending, finishing, and cutting for a variety of industries. We provide complete turn key solutions ready to go into production when the machines arrive at our customer's facilities.
J&S Machine, Inc. provides complete R&D assistance, tooling design, testing, in house training and 24 hour service after the sale. Along with our suppliers we have 90 plus years of experience implementing and developing solutions for metal bending, finishing, and cutting. Contact us today for a solution to your needs.
Featured Bending, Finishing, and Cutting Machines
Our Product lines include manual, NC and PC controlled machines to fit a variety of production and financial needs. Contact J & S Machine, Inc. today and let our experts help you find the right solution for your bending and cutting needs.
YLM Bending & Cutting Machines
3C-CLOMEA Angle Roll Bending Machines
SIMASV Horizontal Presses
Garboli Finishing Machines
Contact us today for more details and a quote