LT 130 for tube grinding and surface preparation.
Featured Product from J&S Machine, Inc.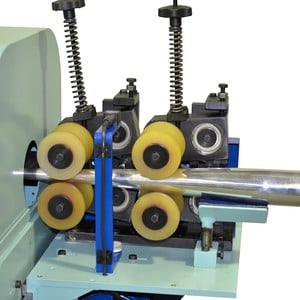 LT 130 Mirror
This is our mirror polishing machine for straight tubes up to 127 mm. diameter ; since it is working through a liquid polishing paste dispenser and special belts the LT 130 MIRROR polishing machine allows to reach mirror orbital buffing on round and oval tubing.
This version is particularly suitable for high productivity requirements and by using standard abrasive belts it is suitable also for tube grinding and surface preparation.
Planetary Surface Finishing Machines
• Finish straight or bent work pieces
• Up to ø8.00" models available
• Dry and Wet versions available
• Two Independent Motors (except LPC 90)
• Simultaneous Head & Belt Rotation for optimal coverage of round tubes
• Lockable head for finishing square and flat profiles
What type of bending machine is right for me?
J&S Machine, Inc. is a premier distributor of SIMASV, Tre C, and YLM metal fabrication equipment with an emphasis in the areas of bending and cutting for a variety of industries. We provide complete turn key solutions ready to go into production when the machines arrive at our customer's facilities.
J&S Machine, Inc. provides complete R&D assistance, tooling design, testing, in house training and 24 hour service after the sale. Along with our suppliers we have 120 plus years of combined experience implementing and developing solutions for metal bending and cutting. Contact us today for a solution to your needs.