Tre C Bending Machines for steel & aluminum
Featured Product from J&S Machine, Inc.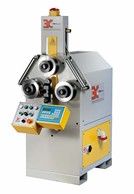 Tre C Bending Machines
J&S Machine carries a full line of Tre C bending machines capable of covering the many needs of the bending industry.
The Tre C product line includes a variety of machines used to bend window and storefront extrusions, angle iron, tube and pipe, and a variety of other materials. To do this, Tre C has developed a complete line of hydraulic and electromechanical machines. With the application of several control options available, Tre C has a bending machine to fit your bending needs.
CR 126HA
The CR 126HA is an electro-hydraulic bending machine for bending steel and aluminum sections. The CR126HA is equipped with software that allows an operator to program both the descent of the bending roller and the feeding distance of the section through the rollers. This combination allows for the repetitive bending of a section in both an automatic and semi-automatic mode. The control is also capable of storing up to 99 different programs. The machine can be operated in both the horizontal and vertical position.
Dimensions:
Horizontal 30" X 56" X 44"
Weight:
Rotation Motor:
Central Hydraulic Motor:
Roller RPM:
Shaft Diameter:
Contact us today for more details and a quote